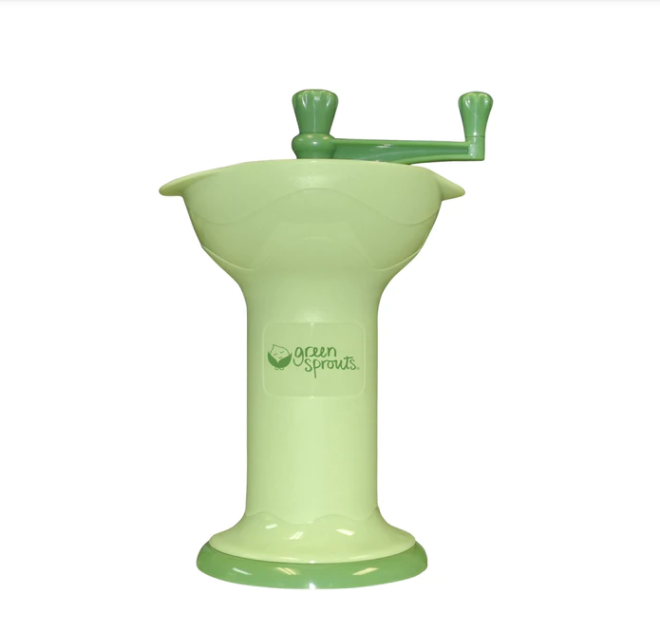 Take baby food to a new level with the Fresh Baby Food Mill! We know you care about what is in your babies food, this food grinder lets you customize your babies food down to the last detail.
Easily makes pureed baby food—Introduce fresh, balanced purees to your little one with our baby food mill that easily purees soft, cooked foods.
Separates seeds and skins from fruits and veggies—Our baby food mill separates seeds and skins to prepare fresh and smooth pureed baby food without a lot of cooking preparation.
Made from safer plastic & stainless steel—Made from food-safe polypropylene and stainless steel without PVC and hormone-disrupting BPA, BPS, BPF, BADGE, BFDGE, AND NOGE additives for baby's health and safety.
Compact size with built-in serving bowl—Small size saves space in kitchen cabinets and built-in, 8-ounce (236 mL) serving bowl means less dirty dishes!
Convenient for small batches and on-the-go—Ideal for introducing new foods in small batches, and for making fresh, homemade purees while traveling.
No batteries or electricity needed—Our baby food hand grinder is quieter than most electric food mills, and convenient to use without needing batteries or electricity.
Made in BSCI-compliant factories for fair labor practices—Our manufacturing partners comply with Business Social Compliance Initiative (BSCI) standards, to meet international labor practices that protect workers' rights.
Easy to clean—All parts are dishwasher safe for convenient clean up.
Care Instructions:
Materials—Polypropylene. Stainless steel.
Care Instructions—Clean before first use and after each use. Always use clean hands and surfaces. Fully disassemble all parts. Wash in warm soapy water. Do not clean with solvents or harsh chemicals. Avoid use of abrasive cleansers. Rinse thoroughly with clean, clear water. Dishwasher safe (top rack only). Allow to dry completely before reassembling.