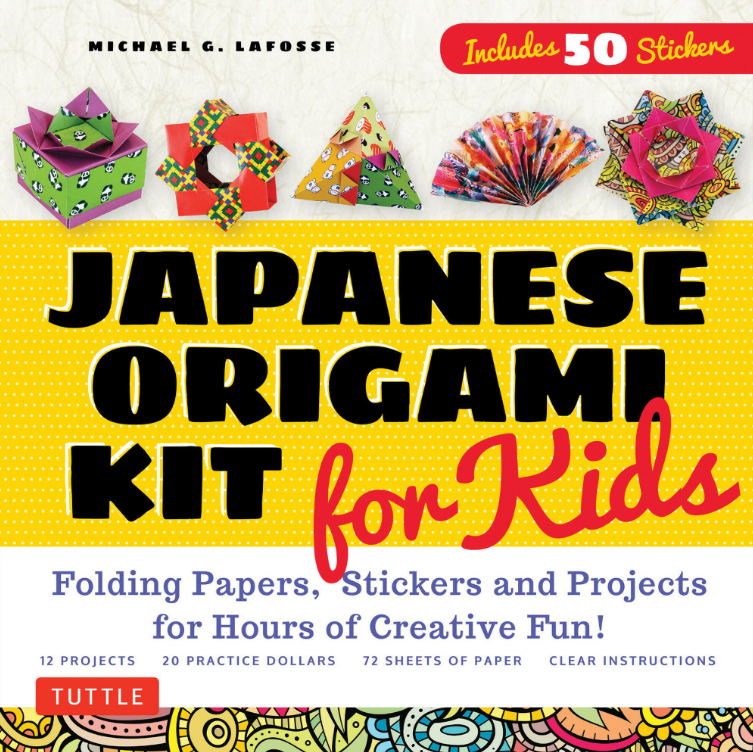 JAPANESE ORIGAMI KIT FOR KIDS
 Kids will love to fold classic origami projects and learn about Japanese culture with this easy origami kit.

Origami, the ancient Japanese method of folding paper into 3D objects, is an exciting way for kids to expand their knowledge of the world. Renowned origami author Michael G. LaFosse has designed these paper folding projects specifically to introduce kids to the joys of origami while also learning about Japanese culture.

The simple, easy-to-follow origami book in this kit teaches kids how to make traditional Japanese Good-Luck Boxes, Lotus Blossoms, Koi Fish, Cranes and many other models while learning this traditional Japanese craft! The 12 projects range from simple to slightly challenging--perfect for all children of ages and skill levels from beginner to intermediate. The beautiful designs are simple to create and fun to play with or display.

This origami for kids kit contains:
48-page, full-color book
Clear step-by-step instructions
12 origami projects
72 double-sided origami papers in 12 different patterns and colors
20 practice dollar bills
About the Author:
Michael G. LaFosse has been an origami artist for decades and is considered a leading authority and master of the art. An avid teacher, LaFosse co-founded the Origamido Studio, a learning center and design studio dedicated to the art of origami, and the only place in the world specializing in hand papermaking for the origami artist. Origamido also produces folded art and commercial designs for a variety of international clients. LaFosse co-curated Origami Now!, a wildly popular, year-long exhibition at the Peabody Essex Museum in Salem, Massachusetts. Vanessa Gould prominently featured LaFosse in the Peabody Award-winning film, Between the Folds.