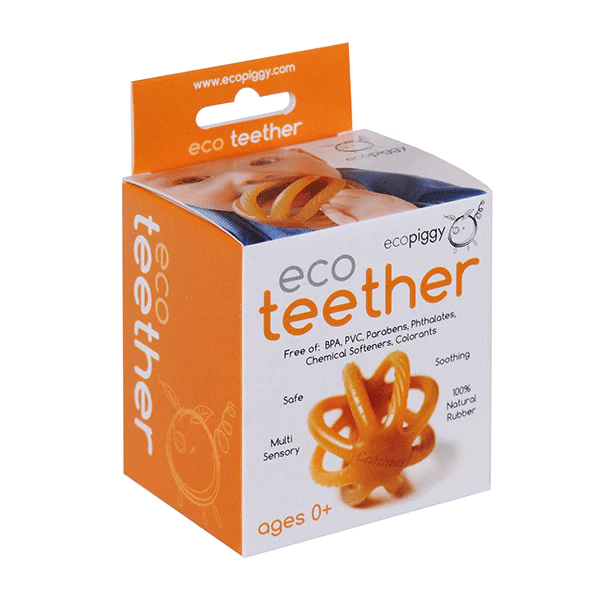 This little teething toy is a natural simple first toy for babies.  It is safe, soothing, sustainable, and multi-sensory. It is easy to grasp for tiny fingers and was developed by a mother to provide relief while teething and gumming.Each arc of this sphere has a different texture, including a smooth, dotted, and twisted spiral; each providing a unique sensation for the baby depending on the teething stage.
It is made of 100% natural rubber from a rubber tree (rubber is a sap kind of like maple syrup). These trees are sustainably grown in plantations in Malaysia. The rubber tree exudes a latex sap, the world's primary source of natural rubber. After about 20-25 years, the tree stops producing latex sap. The trees are then harvested and replanted. The harvested wood is used extensively in furniture, flooring, construction and even toys. From seed to tree to ecoteether to wooden toys, the Rubber tree has an eco-friendly, sustainable, and high-quality life.
Calmies Is A Plant Based Rubber Product

With No Synthetic Masking Agents. We are made out of the sap that comes from the hevea tree which smell like natural rubber.
Other Companies add Chemicals or a Harsh Manufacturing Process to Remove this Smell, but We Believe Simpler is Better.

EcoTeether is sustainably made in Malaysia. Ecopiggy is committed to offering the highest quality, natural products. We feel it's equally important to think of the overall footprint when manufacturing products, so we manufacture our natural rubber pacifiers right at the source of natural rubber.
Dimensions: 1.75"x 2.5"x 3"BPA-Free, Paraben-Free, Phthalate-Free.
No masking agents or chemicals softeners.

Please Note: This product is made from 100% natural rubber from the Hevea Tree. Various conditions including humidity, temperature, season of harvest, etc. can effect the color (making product appear darker or lighter), and smell (scent of natural rubber). The beauty of 100% natural products is that their variability is a confirmation of nature itself--the tree in spring is much different than the tree in autumn.