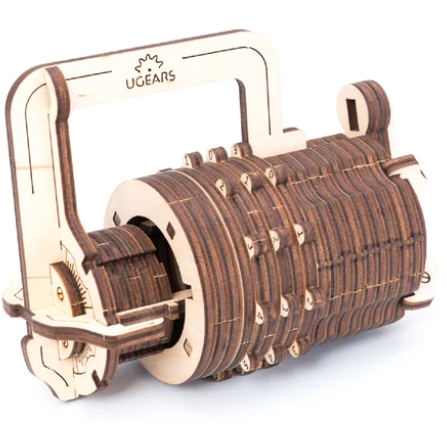 Combination Lock- Build your Own
As you build this wooden model you will gain a first-hand look into the inner workings of a combination lock using real world mechanics.
The lock consists of two parts, a lock and a small storage compartment. Stash your hidden treasure in the compartment and attach it to a backpack, purse, or whatever you want! The lock also has a customizable 3-digit system which allows over 1000 number combinations! Can your friends or family crack your code? You will also learn about combination theorem to figure out the three numbers from scratch or hide clues in an exciting secret agent scavenger hunt. 

 Model kits can help with the development of logical thinking, enhance attention and concentration skills, and help build a habit of attention to detail. The learning even continues after the model is finished! Teach mathematics, methodical thinking, and codebreaking by challenging kids to decode the customizable 3-digit combination code and then reward them by hiding goodies in the storage compartment.

The model is constructed from 34 eco-friendly wooden pieces which can be assembled in under 3 hours. The model requires no messy glue and no cumbersome tools, making for a hassle-free construction with the help of the detailed step-by-step instructions. This easy, lightweight, fully self-contained kit is the perfect gift for tinkerers, learners, and secret-keepers.

Recommended for ages 14 and older
Number of parts: 34
Level: Easy
Assembly Time: 1.5 hours

Model size: 3.8 x 2.6 x 3.9

Package size: 14.6 x 6.7 x 1.2 in