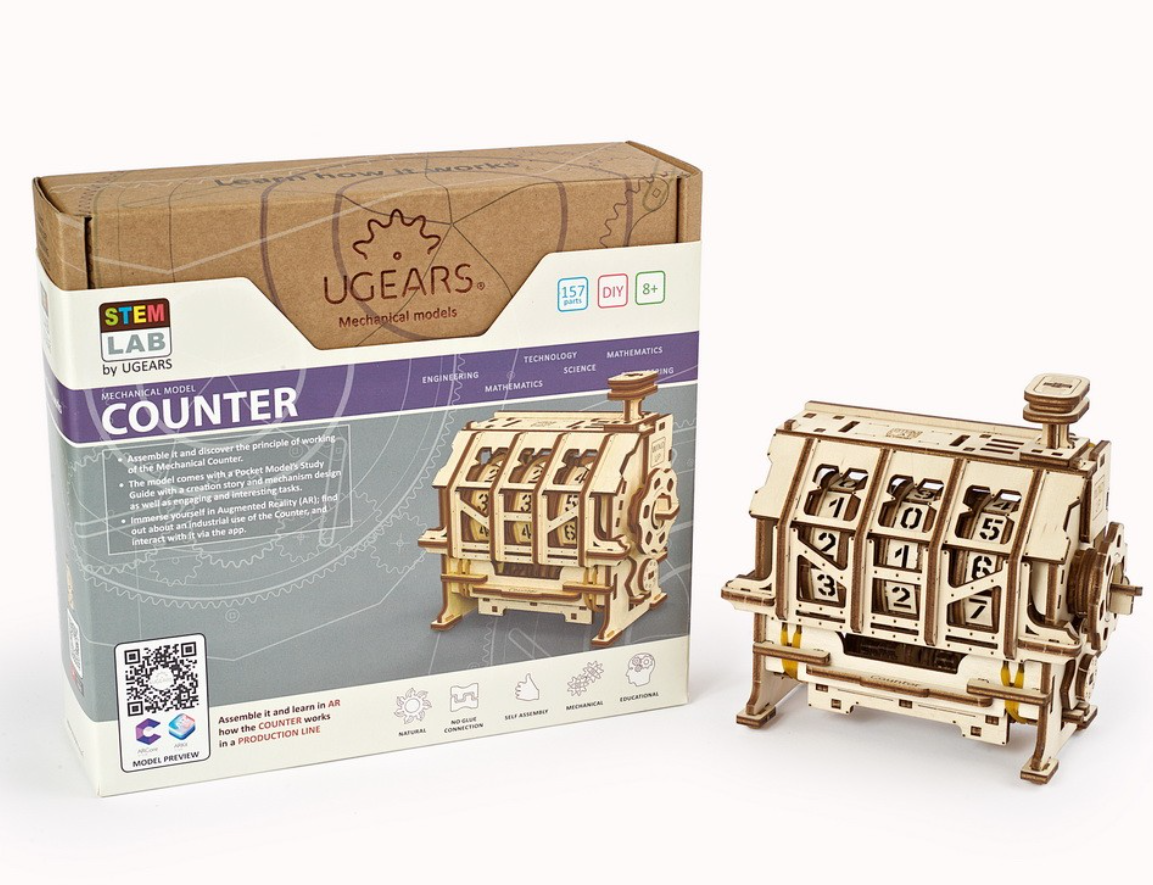 The Counter is a stylized educational model, an interactive study guide to the mechanism, only for learning its essentials and principles of working. It registers repetitive actions. It is an integral part of a device called an "Odometer". The model has three cylinder gears with numbers from 0 to 9 and a Geneva Drive. This combination allows you to see an interesting mechanical feature: when the reciprocating motion of the click-button using the Geneva Drive mechanism turns into the rotary motion of the cylinder gears with numbers. The Counter provides two options of data registering: click-button on the roof of its body, and a turn handle on its side. Pressing the click-button or turning the handle makes the Counter shift by one place. When the count passes 9, the Geneva Drive catches the next register cylinder and adds it to the count. Altogether, the three-digit display of the Counter can register values from 1 to 999. You can open the front panel of the counter and reset it manually. Try counting steps on your way home. Or how many people you meet on a stroll through the park. How about, the number of blue cars passing by your house during one hour? Count stairs at home, at school, or at a friend's house. 
Just like the rest of Ugears collections, putting STEM-lab models together is fun and comprehensive: everything you need to build, learn, and discover comes in a box. There you will find:
High-quality wooden boards with pre-cut details and other standard supplies. Assembly requires no glue or additional tools. The details come out of the boards with a slight push.
Detailed step-by-step color instruction manual. Easy to follow – easy to learn.
Examples and suggestions for your fun hands-on projects.
QR-code to Pocket Model's Study Guide (the Counter Essentials with a description of the mechanism, principle of working, main characteristics, definitions, and formulas).
QR-code to Ugears AR Application. New exciting features from Ugears to make your learning experience even more fascinating!