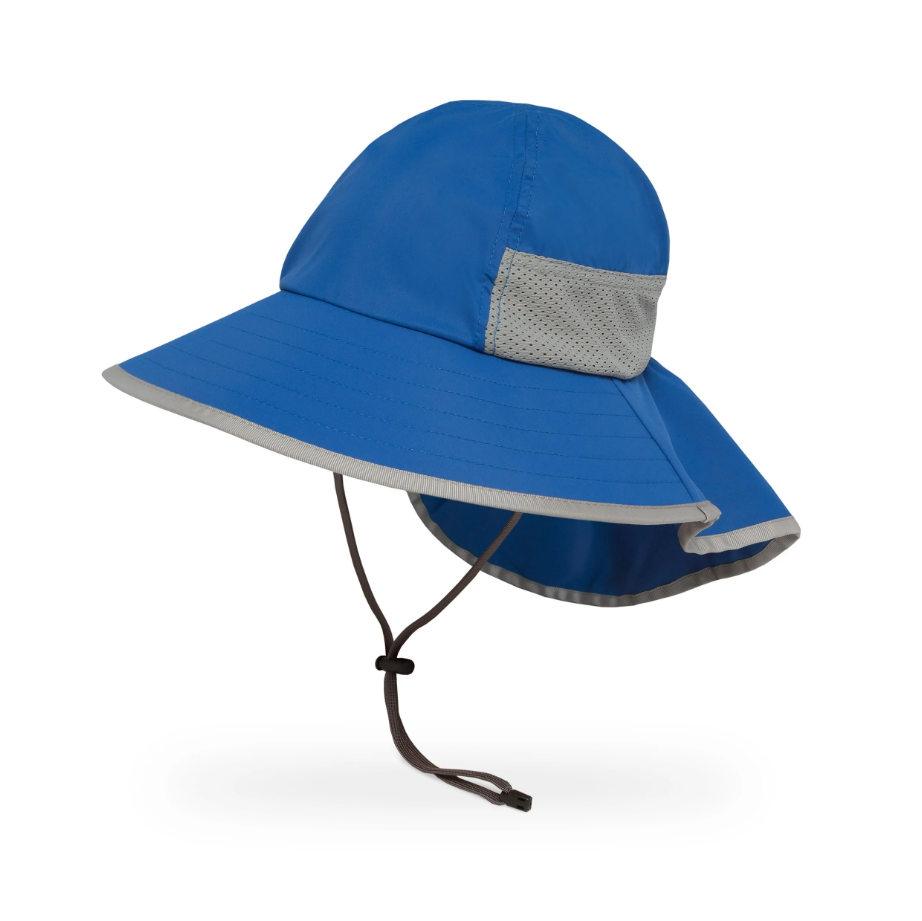 "The Kids' Play Hat is our favorite because it's light, easy to put on, yet hard for kids to take off, and keeps our son's face and neck covered at all times. We call it his "epic" hat for "epic adventures."- gear junkie logo Our #1 bestseller for a reason—kids love to play in the sun, and parents love to protect them. Sun-smart fabric and hat design keep natural-born adventurers safe and happy all the live-long day. Playproof details like a breakaway chinstrap, customizable sizing band, floatable brim, and stain resistance ensure that this hat lasts for summers to come. The back veil not only protects little necks from rays, but also allows the hat to sit comfortably in a stroller. And? Total cuteness.
2¾"- 3¾" Down-Sloping Brim With Floatable Foam Core (Brim Length Depends On Size)
Full 5½" - 6" Neck Veil For Protecting Back Of Neck (Veil Length Depends On Size)
UPF 50+ Certified Sun Rating (Mesh Vents Not Rated) - It's hard to beat the enjoyment of a day in the sun unless it's a day spent in the shady pleasantness of a UPF 50+ hat. UPF 50+ is a high sun protective rating achievable and means only 1/50th or less of UV rays are able to pass through, allowing you to diminish the sun, not the fun!
Strategic Mesh Ventilation On Child & Youth Sizes - Let the air in and keep the kids cool with mesh panels. Mesh panels are not included on size Small.
Water Repellent/Stain Resistant - Like water off a duck's back, the Kids Play Hat sheds splashes and dries quickly to keep adventurous heads comfortable.
Packs Flat For Travel
Smartstrap® Breakaway Chinstrap Technology - Don't get hung up by the hat strings. Our breakaway chin strap keeps kids safe by releasing the clasp under tension.
Stroller-Friendly Wearability
Adjustable Sizing - Just the thing for a growing child. Getting the perfect fit is a cinch – just tug on the sizing strap.
Weight: 1.8 Ounces/51.0 grams
Fabric content: Solids: 100% Nylon / Prints: 100% Polyester Washing and care instructions: Hand wash cold, line dry. Do not bleach, iron, or dry clean. Packing instructions: Packs flat, do not fold or crease brim.