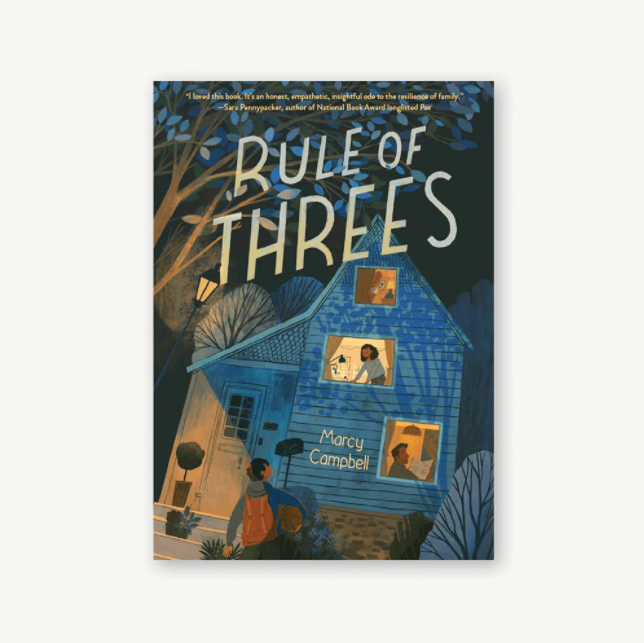 Mercy Suarez meets The Thing About Jellyfish in this novel about what happens when "perfect" is out of your control. A classic middle grade story told with honesty, nuance, and depth, in the tradition of Rebecca Stead, Holly Goldberg Sloan, and Jerry Spinelli.
How do you share a parent with a stranger?
Maggie's accustomed to leading her life perfectly according to her own well-designed plans. But when Maggie learns that she has a half-brother her own age who needs a place to stay, any semblance of a plan is shattered. Tony's mom struggles with an addiction to opioids, and now she's called upon Maggie's dad—who's also Tony's dad—to take him in.
As Maggie struggles to reconcile her mom and dad's almost-divorce, accept the Alzheimer's afflicting her grandmother, and understand Tony's own issues—ignorance is no longer an option. While Maggie can strive for—and even succeed in—a perfect design, when it comes to family, nothing is perfect, and tackling its complexities is only possible with an open heart.
Heart-wrenching, authentic, and darkly funny, this is a spectacularly written portrayal of the ways we respond to intense change, and proof that no matter the circumstances, the unexpected things are often the best ones.
• WILL KEEP KIDS TURNING PAGES: Part family drama, part contemporary thriller, this book is compulsively readable, and accessible and relatable to all different kinds of readers. A juicy read about important topics featuring unforgettable characters that sucks you in and leaves you wishing for more pages!
• TIMELESS RELATABILITY: With themes of family, school, and friendship, at its core this is a coming-of-age story that's relatable despite the unique circumstances the characters face.
• HARD-HITTING TOPICS, APPROACHED WITH CARE: Divorce, substance abuse, opioid addiction, class disparities, and loss are all factors in the story. All are approached with care, honesty, thoughtfulness, and thoroughness.
• A REAL, IMPERFECT KID CHARACTER: Prickly and dry, closer to Harriet the Spy than Anne Shirley, the main character Maggie is self-aware, unapologetic, and creative, stubbornly herself and ambitiously brave, giving voice to the kind of kid many kids are but don't often see in books.
• THOUGHTFUL BUT NEVER PREACHY: This book takes its young readers seriously: it doesn't talk down to them, keeps them absorbed and engaged, and explores important themes without making them obvious or message-y.
Perfect for:
• Readers who love a bold and self-aware protagonist
• Fans of The Things About Jellyfish
• Fans of When You Reach Me
• Readers looking for books about divorce
• Readers looking for non-traditional families
• Readers looking for evolving friendships
• Kids who have experiences with Alzheimer's
• Booksellers
• Educators and librarians